Jewelry is definitely one area of style where I struggle. I have jewelry, and I know what I like when I see it, but I have a tough time actually putting it together with clothes. I love the look of big, chunky pieces and bright, bold colors, but when I put them on myself I feel like I look totally bizarre and so I revert back to smaller, more delicate, softer toned pieces. When I look at Pinterest pins of women looking effortless and nicely accessorized, it makes me a little bit jealous that they understand how to combine different jewelry pieces and look so good. Do you know what I mean? For a long time, I just wore a watch. That's it. Maybe small earrings. Now I don't wear a watch (though I plan to start again) but I generally remember a necklace and sometimes earrings....it's really just a mess. However, I am quickly learning that accessories are the icing on the cake, so to speak, and they make all the difference to achieving a pulled together look. Do you wear jewelry? Are you bold? Are you more conservative/minimalist?
Would you like to win some?
To help us on our stylish way, I have a lovely group of ladies with some truly lovely shops who are generously donating some of their beautiful jewelry to one lucky winner.
Cylene from The Lovely Smith and The Lovely Script is a (mostly) self-taught metalsmith jewelry designer and visual artist - who also is a wife and mother to two lovely little girls! She works full time in the world of non-profit supportive housing but her dream is to one day stay home and set metal on fire for a living. She started her Etsy shop after a friend introduced her to the joys of beading, and it took off after that! When she was pregnant with her first daughter, she took a beginner's metalsmithing course and the rest is history.
Cylene is offering a $20 shop credit to The Lovely Smith
AND a moleskine notebook from The Lovely Script!
Use LOVELY13 for 15% off!
Amanda of LilahV lives in Pasadena, CA with her husband and two dogs. She grew up in California getting to pursue her first love working on feature films. She has been fortunate to work all over the world on such movies as "Speedracer," "Contraband," and "Troy." Her second love came out of sad circumstances. Her grandmother passed away leaving Amanda her collection of jewelry. She was a spitfire and lived a long, fantastic life where you dressed up to get on an airplane. Much of the jewelry was broken so I took classes on jewelry making and chain work learning how to take apart the old and make it modern. Ever since I have been making elegant everyday jewelry using a combination of mid century and new - I love it.
The mid century beads you see on each necklace and earrings of the Moderne Line were made by a European designer from the 1940's through the early 1960's. In that time the designer disappeared and the entire collection was lost for decades. The beads were just recently found buried in a factory and LilahV has exclusive access to them. All of these original beads were painted on the sides with solid platinum followed by 24k gold to get that gorgeous effect.
Amanda is giving away a $100 shop credit good toward her Moderne Line!
Use LILAH10 for 10% off any item in the Moderne Line!
Good for Moderne Jewelry only. Not valid for items in the gold, silver, vintage or sale sections.
One code per person.
Tracy from Very Pretty Things is a self-employed glass artisan who recently quit her full time day job to focus all of her efforts into my craft. She currently lives in Vancouver, Canada with her 18 year old son and her darling corgi dog. She makes fused glass jewelry. Her favorite part of the process is selecting and laying different types of glass to get different 3D effects and firing them in her kiln at 1500 degrees F. She heard about Etsy from a co-worker and was hooked. She soon realized that that was what she had been waiting for.
Tracy is offering a $20 credit to her shop!
Use FREESHIP for free shipping!
Anna of ARTdesigns lives in the mountains almost an hour from Chico, CA, our nearest town. Designing, crafting and creating has always been a huge part of her life and she's thrilled to be doing it now as her profession. She started my business in 2011 and thought she would "just see how it goes". It went better than she ever expected and she quickly moved from making beaded pieces to making her own creations from hammered metal. Now almost all of her jewelry is made from twisting and bending copper or sterling silver wire into interesting shapes and hammering them out. The result is my minimal, organic, abstract line of jewelry.
Anna is offering one lucky reader a pair of these gorgeous
copper and turquoise earrings
: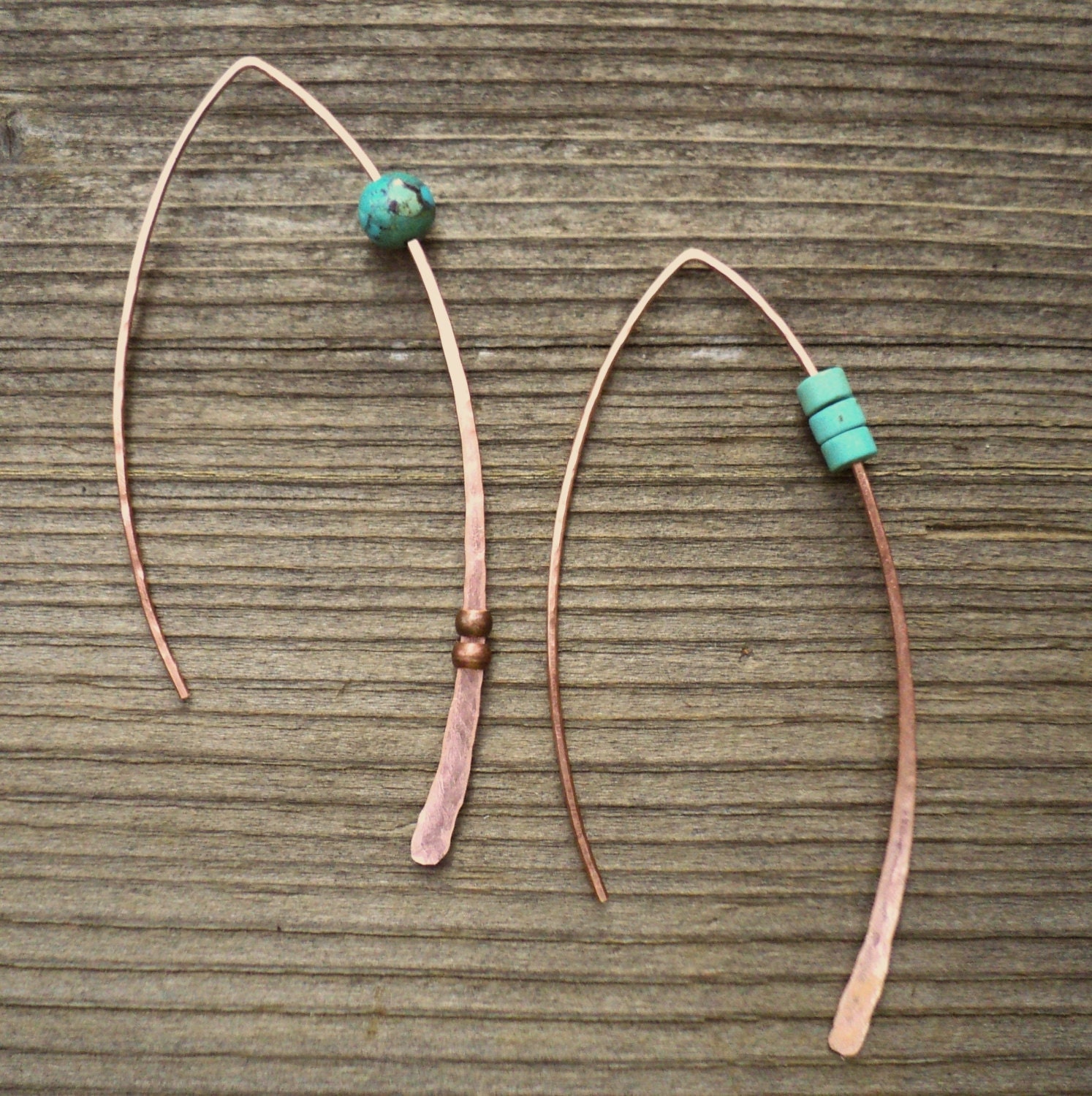 Use DISCOUNT10 for 10% off!
Amazing shops, aren't they? I love how each has such a unique style. There is a huge amount of talent there, and soon, one of you is going to have a whole lot of shopping to do! (U.S. residents only, please)
a Rafflecopter giveaway